Recently, the founders of the Stay in Step Brain and Spinal Cord Injury Recovery Center, Romulo "Romy" Camargo and his wife, Gabrielle Camargo, visited Quiet Professionals. It was our honor for Quiet Professionals' founder and CEO, Andy Wilson, to present a donation of $17,500 to sponsor Stay in Step's Annual Gala. This important fundraising event seeks to raise money and awareness for spinal cord injuries and their rehabilitation.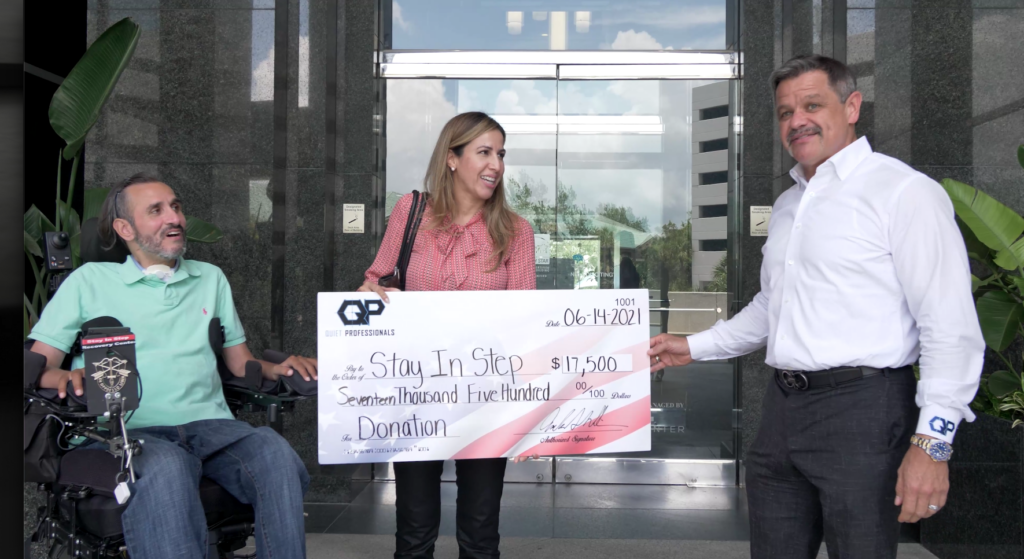 In 2008 while on a humanitarian mission in Afghanistan, founder Romy Camargo, as part of the Special Operations Forces (SOF), suffered a bullet to the back of his skull. He returned to Tampa and spent eighteen months in treatment in a Veterans Administration hospital, then was released and began treatment at a rehabilitation center in Orlando. 
After two and a half years of twice-weekly rehabilitative treatment driving to and from Tampa, he and Gabrielle decided to open their own rehab center to serve the Tampa area, and on June 20, 2015, the Stay in Step facility opened, providing services to veterans and civilians both. 
The 4500-square-foot Stay in Step facility serves about fifty-five clients at a time, using state-of-the-art equipment. Not only do they serve clients with spinal cord injuries, they serve clients across the whole neurological spectrum with any disorder, treating clients with paralysis, brain injuries, Parkinson's disease, strokes, and more. They also have a supplemental plan to help clients with financial constraints to relieve some of the financial burdens. 
The donation will go to support Stay in Step's annual gala, with food, dancing, live music, speakers, and more. This year's event will be held September 25th at the Grand Hyatt Tampa Bay.  
Stay in Step is currently offering event sponsors and tickets to support this event. Find more details here. 
As Romy says, it is a blessing to have organizations like Quiet Professionals providing support. The center has been so successful at helping their clients that they are looking to expand.  
Romy would like everyone to know that they are welcome to visit the center in person, saying to "come to the center and see the hard work that our clients do. They are the rock stars of Stay in Step." 
You can find out more about supporting in the Stay in Step gala on September 25th, including buying tickets, on their website, StayinStep.org.