Written by Raechel Canipe, Strategic Marketing Manager
     On Thursday, August 6th, 2020, and Friday, August 7th, 2020 Quiet Professionals, LLC celebrated the latest wave of expansion including newly constructed offices and a rebranded digital presence. Partners, vendors, industry leaders, and teammates were invited to tour the high tech, collaborative new offices in socially distanced groups of six, with the event culminating in a Ribbon Cutting Ceremony led by the Tampa Bay Chamber. The event featured latte art by the professional baristas of Coffee Matters and mimosas and hors d'oeuvres by Olympia Catering. Throughout the tours, guests had the opportunity to meet and speak with partners who supported QP's build-out, design, and branding.
Will Dvorak, Account Manager at Workscapes, shared with the team: "We had the great privilege of working with Quiet Professionals to design this space from the inside out. We had QP come into our offices downtown and we did what's called a live design session, so everything you're going to see, touch, and feel as an employee in this space regarding furniture and even modular walls was specifically put there to make Quiet Professionals more innovative and higher performing as a company by optimizing their real estate and customizing all of their selections." Functional, ergonomic, and aesthetically on brand furniture is dominant throughout the new space reflecting the investment in QP employees being welcomed anytime they can make it to the office with a comfortable, collaborative, and health-forward environment.  Referring to QP's partnership with Workscapes and in particular the ergonomic work chairs, Andy expressed that he "didn't need someone to just provide furniture – [he] wanted someone to help us visualize the design of the space. Herman Miller brand is one of the best in the market."
Concurrent with the build-out, Quiet Professionals investigated the ways the brand and identity of the company has evolved over the years and with expanding contract awards and a growing team.  Honing in on our corporate identity and voice is an investment in the growth of the business and defining our key identity and differentiators as we gear up to compete with the biggest defense contracting businesses in the world. More than colors and logos, our brand sends a clear message to our employees and our teams.  Ben Lee, Co-Founder of Schifino Lee, and our partner in re-branding and web design joined us for the event to share a little more about how the branding process works: "We are extraordinarily proud to work with Quiet Professionals. The branding came about just by authentic listening and understanding of what QP is doing, what their mission is, and who they are: People with intense purpose, a company that the customers and employees know they do what it takes to succeed and they always have your back." Based on our findings we developed a new digital presence to capture the innovative and purposeful nature of our teams across our website and social platforms like LinkedIn, Facebook, and Instagram. As a part of this endeavor, we embarked into new territory as producers to create the Masters of the Tide film, a short advertisement in which all of QP's capabilities are presented in the scope of a single mission. This production would not have been possible without support from our partners at Bear Defense and Pasco Sheriff's Office.
Behind The Scenes: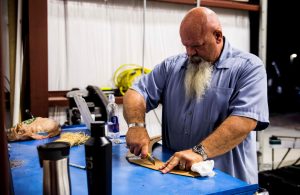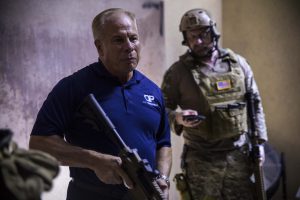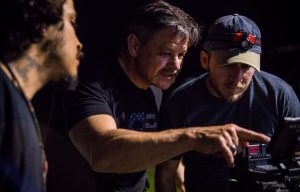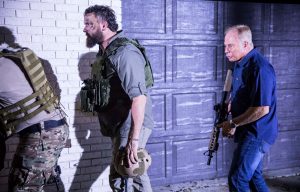 A unique advantage that arose from our concurrent build-out and rebrand was the exciting opportunity to incorporate powerful visual messages about QP's core competencies and history throughout the new offices.  Each of our conference rooms and our employee break room is named for places of significance in the SOF community: Camp Dawson, Fryar Drop Zone, and Normandy Drop Zone.  In our breakroom, we erected "murals" with a nod to our SOF roots; 4 of our 6 executives are military veterans and 3 of them are former Special Operators.  On our main reception wall, we created visual "pillars" symbolizing each of our original core competencies: Operational Mission Support, Information Technology Services, Global Intelligence Support Services, Geospatial & Cloud Managed Services, and Small Unmanned Aerial Systems.
The latest wave of growth represents a critical inflection point as QP quickly approaches the divide between "small" and "big" in the Defense Contracting industry.  Companies who have supported our growth and assisted with our build out and rebrand include: Ed Taylor Construction, Workscapes, Creative Sign Design, Schifino Lee, Bear Defense, and Pasco Sheriff's Office. This is just one stop along the way as our business continues to rapidly grow.  While a great space is something to be proud of, what we are most proud of are our people.  As "Quiet Professionals" every member of our team exemplifies a commitment to excellence and innovative client support that propels the company's success and growth year over year.  Every day our team grows as our globally dispersed teams work to support the unending work of bolstering U.S. National Security at home and abroad: "What makes a great organization is great people" – Andrew Wilson, CEO, Quiet Professionals, LLC.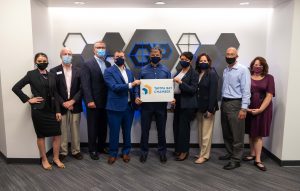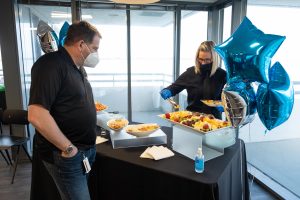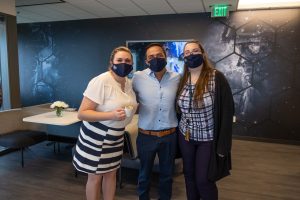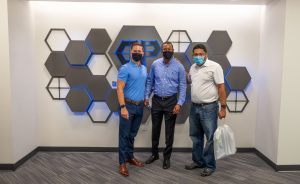 To learn more about everything we have been working on and to hear from the QP team directly, check out our latest video: