On May 24th, Quiet Professionals and Echo Analytics Group sponsored a breakfast for the CEO Council of Tampa Bay. CEOs, Directors, and Executives from Tampa businesses came together at the Meat Market Steakhouse to learn about Open-Source Information (OSINT) and social risk management, as presented by Buddy Jericho, CEO of Echo Analytics Group, a Quiet Professionals company. 
Publicly available information is everywhere in modern life, from the data produced by social media and other sites to much of the data produced by the "Internet of Things" (IoT), including step counters, "smart" door cameras, RFID tags attached to products, and more.  
This information is a byproduct of convenience and connection. When we reach out to friends, go shopping, or browse information online or use "smart" technology to help us improve our lives, we leave behind a "digital exhaust" as a marker of our actions.  
In the wrong hands, this "digital exhaust" can be combined with other information and analyzed to find ways to track us, hack into our systems, and make us vulnerable to blackmail, "cancel culture," and other types of manipulation. The dangers don't just strike people, but businesses and other organizations as well.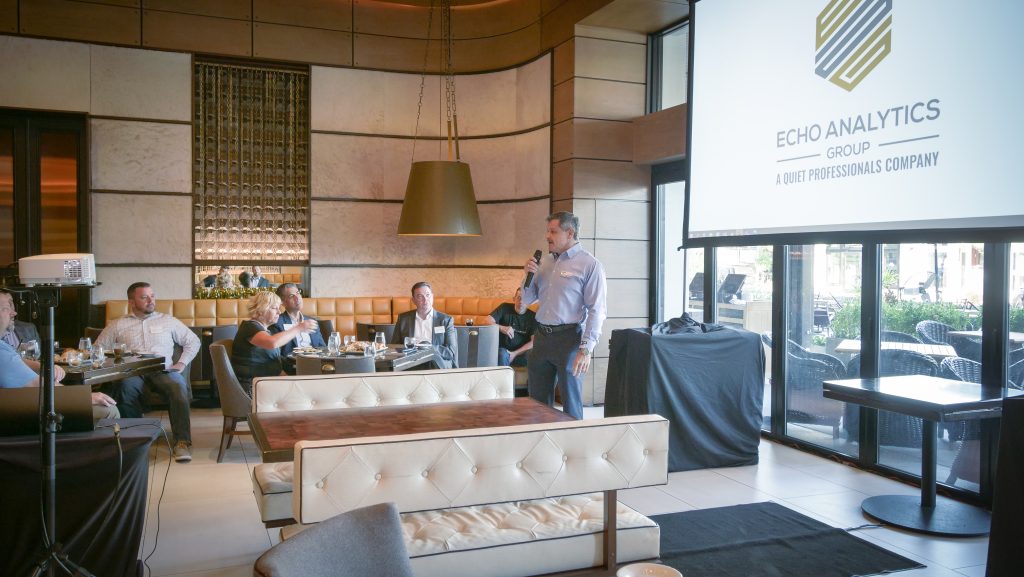 Buddy's presentation covered how businesses and individuals can be vulnerable to having their Publicly Available Information used against them—and how they can make use of Publicly Available Information for their own uses, such as background checks and performing due diligence before signing a contract with a vendor.
He used three real-world example scenarios to illustrate how OSINT could be used for harm as well as to repair that harm, from phishing for passwords, to blackmail, to using social media to lure young women into prostitution.  
Publicly available information can, and will, be used for many different purposes. It behooves us all to be aware that everything we do online leaves traces behind that, with expertise, can be used maliciously against us. He recommended several easy tips for monitoring the information of you, your family, and your business: 
Buddy's talk was well received and has led to connections with other businesses and organizations. Congratulations for Buddy and EAG on a great presentation for the CEO Council of Tampa Bay!  
Contact us if you'd like more information on using OSINT techniques to help protect your family and business online, or if you're interested in our other OSINT-based products, like background checks, competitive analysis reports, due diligence research, and more.