The Wargame Center in Tampa, Florida, is a place where U.S. Defense leadership can bring their most difficult problems to brainstorm solutions. Senior Technology Specialist Kendra Lee and her team help walk leaders through design workshops, and build visualizations to help them demonstrate their solutions across a cutting-edge display floor.  
Kendra Lee says her position at Quiet Professionals flows fantastically with being a veteran. She serves with the Air National Guard, and her background is in Information Technology. She is proud to have been the first woman in her family to graduate from college. Before working at Quiet Professionals, she was a Unified Communications Specialist at USSOCOM, responsible for setting up and maintaining voice and video communication channels around the world.
She's proud of her ability to bring ideas to life in a way that lets leaders transform them and make them their own. She also loves developing immersive solutions that go far beyond the power of a traditional PowerPoint background.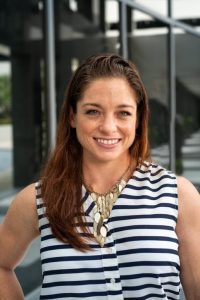 Ms. Lee adds, "If you can find a way to keep learning stuff, then that [accumulation of knowledge] will all build up eventually into being able to give back to somebody and help them out. It's really cool."  
Thanks to Ms. Lee for helping our leaders bring their visions to life at the Wargame Center! 
… 
Do you have a success story about working with Quiet Professionals? Submit it to MarketingAndMedia@QuietProfessionalsLLC.com today!