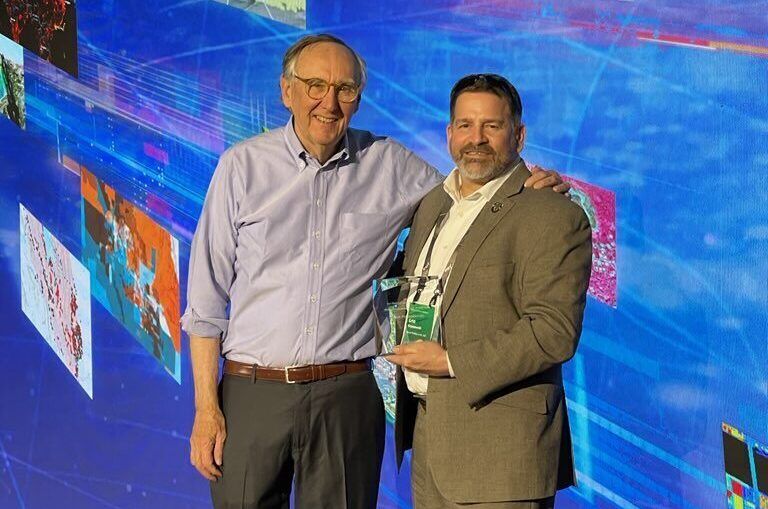 Tampa, FL (Monday, March 7, 2022) – Quiet Professionals, LLC, received the Federal Small Business Award as Partner of the Year at the 2022 Esri Partner Conference (EPC) held in Palm Springs, California March 5–7, 2022. Quiet Professionals was one of six Esri partners recognized at the conference for excellence in their work with Esri in the US Federal Government market.  
Quiet Professionals uses Esri ArcGIS Enterprise as part of their product Cerebra Grey. Cerebra Grey intakes a wide variety of disparate data at speed and scale to produce actionable intelligence in real time. The product, available for commercial, federal, and other markets, connects information seamlessly and securely across distributed organizations, from the edge of operations in the field to analysts and leadership across the globe.   
"Esri's ArcGIS technology helps Quiet Professionals provide valuable support to the National Security community," said Andy Wilson, President and CEO of Quiet Professionals. "As we expand into commercial and other government markets, ArcGIS can provide the capabilities we need to bring solutions to the organizations and communities who need them most, from disaster response teams to law enforcement organizations to business fusion centers."  
Esri is the global leader in location intelligence with a network of over 2700 partners around the world. The award winners have demonstrated exceptional ways to deliver solutions to the US Federal Government with Esri's ArcGIS software to advance the use of geographic information systems (GIS) technology by these organizations.  
"Esri congratulates Quiet Professionals on their 2022 Federal Small Business Award as Partner of the Year award in recognition of their work leveraging the ArcGIS software," said Robert Laudati, Director of Global Partners and Alliances at Esri. "We are proud to partner with Quiet Professionals to foster the use of GIS technology in support of our mutual US Federal Government customers." 
About Esri 
Esri, the global market leader in geographic information system (GIS) software, location intelligence, and mapping, helps customers unlock the full potential of data to improve operational and business results. Founded in 1969 in Redlands, California, USA, Esri software is deployed in more than 350,000 organizations globally and in over 200,000 institutions in the Americas, Asia and the Pacific, Europe, Africa, and the Middle East, including Fortune 500 companies, government agencies, nonprofits, and universities. Esri has regional offices, international distributors, and partners providing local support in over 100 countries on six continents. With its pioneering commitment to geospatial information technology, Esri engineers the most innovative solutions for digital transformation, the Internet of Things (IoT), and advanced analytics. Visit us at esri.com. 
About Quiet Professionals 
Quiet Professionals, LLC, is a Service-Disabled Veteran-Owned Small Business (SDVOSB) located on the island of Rocky Point in Tampa Bay. Quiet Professionals is a fast-growing company with a mission to strengthen national and global security. The backbone of the Company is routed in Special Operations Forces (SOF) Mission Support, Intelligence, Advanced Analytics, Cloud Computing, Geospatial Intelligence, and Open-Source Intelligence. The Company provides professional services, operationally skilled workforces, and innovative defense products to its partners and clients. For more information about Quiet Professionals, please visit quietprofessionalsllc.com.